Related Articles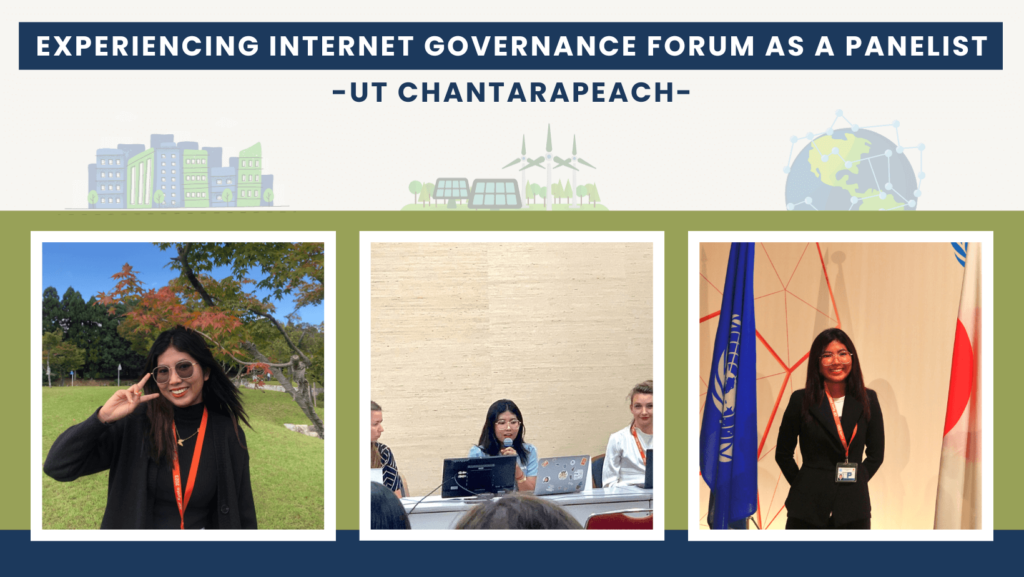 Sunday 19 November 2023​
UT Chantarapeach
Imagine a place where the ancient meets the cutting edge, where culture dances with technology—a place like Kyoto, Japan. Now, picture being part of a global gathering of minds, all driven by a shared passion for shaping the digital world. That\'s precisely where I found myself at the Internet Governance Forum (IGF) 2023, and let me tell you, it was nothing short of an exhilarating experience!Being a Youth RepresentativeOne of the most memorable moments in my journey was the opportunity to serve as a panelist for Session #133, titled \"Accelerating an Inclusive Energy Transition.\" This session was a significant part of the broader discussions on Digital Technologies to Achieve Sustainable Development Goals. The session was expertly organized by several key entities, including the Dutch Ministry of Economic Affairs and Climate Policy, the NLIGF, Electronic Commerce Platform Netherlands (ECP), and WEOG. As I stepped onto the stage, I carried with me not just the perspectives of Cambodia but also the dynamic ASEAN youth community. It was a moment of immense honor and responsibility to raise the my voice. The session's mission was clear: to energize our collective efforts toward an energy future that truly leaves no one behind.In my presentation titled \"Unlocking ASEAN\'s Green Energy Future Through Youth,\" I delved into the pivotal role of youth in spearheading green energy transformation in the ASEAN region. I began by emphasizing the critical importance of green energy, not only for environmental sustainability but also for our collective future. I then highlighted the significant challenges that ASEAN faces in transitioning to green energy, including surging energy demands and issues of affordability and accessibility. I also showcased the immense potential for youth to contribute to this development. Through the adoption of green technologies, the creation of green jobs, and the initiation of green initiatives, we can use the successful model of the Cambodia Internet Governance Forum as an example, in which the forum plays a paramount role in driving the transition towards a sustainable and green energy future in ASEAN.Keynote from other significant sessions:My thoughts were not only mine; I did take some aspirations and knowledge from other experts from the other sessions I joined before my panel sessions. I will list three sessions that genuinely inspired me below:\"Transforming Technology Frameworks for the Planet\" IGF 2023 was like a digital oasis, teeming with knowledge and inspiration. This session had me envisioning a tech-powered green utopia. It was a reminder that the digital realm could be a force for planetary good as well if we were to include the environment in the framework-building process.\"High-Level Panel on Artificial Intelligence\"Artificial Intelligence, or AI, wasn\'t just a buzzword—it was the show\'s star! This session was the most inspiring for me as it showed us how AI can be an accelerator in its own right, speeding us towards a greener, more sustainable world. But wait, there are matters that we need to consider here! AI needs a moral compass, and that\'s where governance comes in.\"Without facts, you can\'t have truth, and without truth, you cannot have trust.\"Nobel Peace Prize laureate Maria Ressa at IGF2023. Three suggestions were raised for approaching generative AI where it can be hijacked easily for emotional influences and often false content: \"Stop surveillance for profit. Stop coded bias against women, LGBTQI, and other minorities and use journalism as an antidote to tyranny.\"\"Youth for Digital Inclusion & Environmental Sustainability\"This session was like a rallying cry for young digital warriors to start taking action. It hammered the message that we, the youth, are not just the future; we are the drivers of change today!Nadia Owusu, Civil Society, African Group representative, emphasized the role of youth in this critical time when we need to accelerate the green digital environment. I take so much inspiration from her work and statements from the session that they shape my panel discussion as well.The Return JourneyLeaving Kyoto was bittersweet, but I carried back more than just memories. I brought back a suitcase filled with inspiration, wisdom, and a heart bursting with a determination to continue endorsing digital rights, environmental sustainability, and youth empowerment.I will use my knowledge to light up our digital world, one pixel at a time. Special ThanksA heartfelt thank you to my admiring team, the Cambodia Youth Internet Governance Forum Organizing Committee, our Board of Advisory Committee, and Open Development Cambodia for making this incredible opportunity possible. Your support and dedication have fueled my journey towards a more inclusive and sustainable digital world.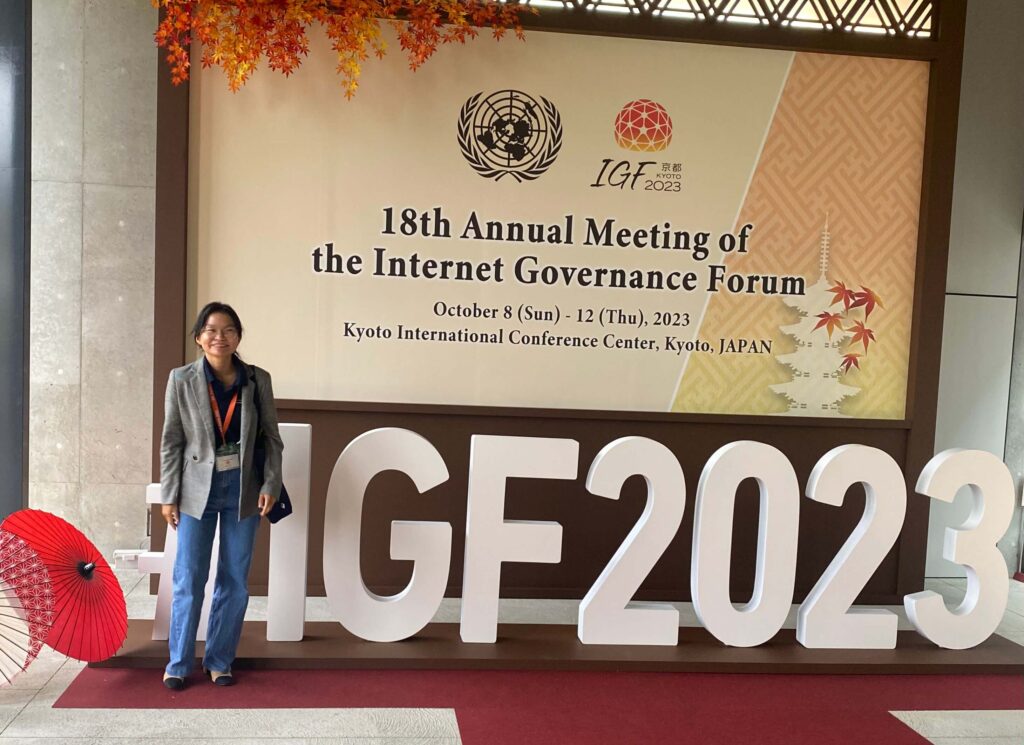 Friday 17 November 2023​
Va Phavan
The "digital divide" is the gap between people who have access to digital technologies and those who do not. It\'s a problem that affects people all over the world, but it\'s especially pronounced in developing countries.At the recent Internet Governance Forum (IGF2023), I had the opportunity to join several sessions from 'High Level Panels' to 'Speakers Corner' which varied in topics. Among the 300+ sessions that IGF2023 had to offer, I joined the sessions about Digital Divide and Inclusion, and Environment and Sustainability.  I learned about the digital divide and inclusion efforts in multiple countries; however, I would only take the two countries to compare: Japan and Cambodia.Japan\'s Digital DivideJapan is a technologically advanced country, but even there, some people face barriers to accessing and using digital tools. This is especially true for the elderly and rural communities.Japan has learned some important lessons about how to bridge the digital divide such as infrastructure investment and digital literacy training.Invest in infrastructure: Japan has invested heavily in high-speed internet networks, even in rural areas. This has made it easier for everyone to get online.Provide digital literacy training: Japan offers digital literacy programs at all levels of education. This helps people learn how to use digital tools effectively.Cambodia\'s Digital DivideCambodia is a developing country with a less established ICT infrastructure and lower internet penetration rates. As a result, a large portion of the population has limited or no access to digital resources. This disparity has an especially negative impact on rural populations, women, and underprivileged groups.Cambodia is also learning valuable lessons about how to bridge the digital divide:Create a strong policy and regulatory framework. Cambodia has developed a policy and regulatory framework that encourages ICT growth and closes the digital gap. This includes efforts to improve internet infrastructure and lower internet access costs.Partner with the private sector. Cambodia is working with the private sector to harness resources and expertise to drive digital inclusion efforts.What Can We Learn from Japan and Cambodia?Japan and Cambodia can teach us a lot about how to bridge the digital divide. Here are a few key lessons:Take a personalized approach: Each country faces unique challenges, so there are no "one-size-fits-all" solutions. It\'s important to understand the local context and develop tailored solutions.Create inclusive policies: Governments should develop policies that prioritize digital inclusion. This includes investing in infrastructure, promoting digital literacy programs, and making sure that digital services are affordable.Collaborate for impact: Collaboration among governments, businesses, and civil society organizations can significantly boost efforts to achieve digital inclusion.Bridging the digital divide and promoting digital inclusion are essential for ensuring that everyone has equal access to opportunities, information, and resources. Japan and Cambodia are making progress, but there is still more work to be done. By learning from their experiences, we can develop more effective and inclusive solutions.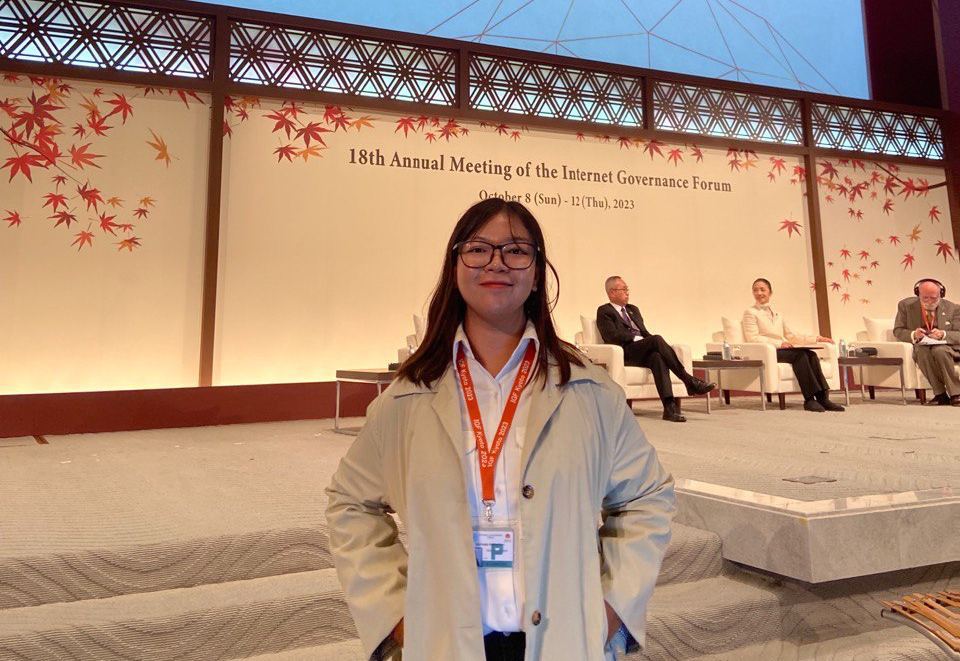 Friday 17 November 2023​
Sokhachan Socheata
The Internet Governance Forum (IGF) stands as the world\'s premier annual gathering of stakeholders from diverse sectors, converging to discuss and influence the trajectory of the internet\'s future. The 2023 IGF, hosted in Kyoto, Japan, from October 8-12, marked a pivotal moment. At this juncture, the internet confronts numerous challenges, elevating the significance of this event in shaping its future.Reflecting on my personal experience at IGF 2023, it was nothing short of enriching. The multitude of workshops and the community\'s eagerness to engage in spontaneous discussions left me in awe. However, amidst the vibrant exchange of ideas, a notable observation was the often marginal role played by the youth in discussions, with many assuming passive roles.The Challenges of a New Era for the InternetForemost among the challenges discussed was the looming threat of internet fragmentation. Governments and private entities are increasingly vying to control distinct sections of the internet, heightening the risk of a fractured and siloed digital landscape. The repercussions of such fragmentation include restricted access to information and services, as well as a potential stifling of innovation.Another critical challenge that emerged is the ascendancy of AI and other emerging technologies. While these technologies hold the potential to revolutionize various aspects of our lives, they also bring forth risks, such as job displacement and the potential misuse of data. Navigating this landscape requires a concerted effort to ensure the responsible and ethical development and application of these transformative technologies.In addition to these challenges, the internet grapples with the spread of misinformation and disinformation, the surge in cybercrime, and the erosion of online privacy.The bright spot amid these challenges is the IGF 2023\'s success in bringing together a diverse array of stakeholders from across the globe. The forum\'s overarching theme, \"The Internet We Want – Empowering All People,\" served as a reminder that the internet is a global resource that should be accessible and beneficial to everyone.What I Learned from the World\'s Leading Internet Experts:The internet is a global resource, and it needs to be governed accordingly. The current system of internet governance is fragmented and siloed, which makes it difficult to address global challenges. We need a more inclusive and participatory system of internet governance that reflects the global nature of the internet.We need to invest in digital literacy and education. Many people around the world do not have the skills and knowledge they need to use the internet safely and effectively. We need to invest in programs that teach people about digital literacy and online safety.We need to protect our online privacy and security. The internet has become a breeding ground for cybercrime and data breaches. We need to take steps to protect our online privacy and security, both as individuals and as societies.We need to ensure that the internet is accessible to everyone. The internet is still a luxury for many people around the world. We need to work to make the internet more affordable and accessible to everyone, regardless of their income or location.We need to promote diversity and inclusion on the internet. The internet should be a place where everyone feels welcome and respected. We need to work to promote diversity and inclusion on the internet, both in terms of the content that is available and the people who are participating in online communities.These are just a few of the many things that I learned from the world\'s leading internet experts at IGF 2023. It was an inspiring event, and it gave me hope for the future of the internet. I believe that if we work together, we can create a more open, inclusive, and equitable internet for everyone.What can we all do to help? From youth role perspective:Now, moving from reflection to action, the question arises: What can we all do to contribute, especially from the perspective of the youth?Active Youth Participation: A resounding call at IGF 2023 was for increased and active youth participation. It became clear that for internet governance to be truly inclusive and effective, the youth must step forward, engage in discussions, and challenge existing norms. Our unique perspectives can inject fresh ideas and innovative solutions into the discourse.Advocacy for Digital Literacy: The need for enhanced digital literacy emerged as a critical point. In a world dominated by technology, the youth can take the lead in advocating for educational programs that equip individuals with the skills to navigate the digital landscape responsibly.Promotion of Inclusivity: Internet access should transcend geographical and socio-economic boundaries. As youth advocates, we can champion initiatives that bridge the digital divide, ensuring that the internet is a fundamental right accessible to all.Responsible Use of Emerging Technologies: Given the prominence of AI and emerging technologies, the youth, as early adopters, bear the responsibility of advocating for their ethical and responsible use. Staying informed about potential risks and benefits positions us to contribute to shaping policies that balance innovation and societal well-being.Combatting Misinformation: Misinformation emerged as a significant threat. The youth can play a pivotal role in combatting misinformation by promoting media literacy, fact-checking, and responsible information sharing.IGF 2023 underscored that the future of the internet is a shared responsibility. The active involvement of the youth is not just encouraged but essential. By embracing our role as catalysts for positive change, we can collectively work towards shaping an internet that truly empowers and benefits all. The discussions and collaborations fostered at IGF 2023 serve as a catalyst for a more inclusive, secure, and innovative digital future.