Related Articles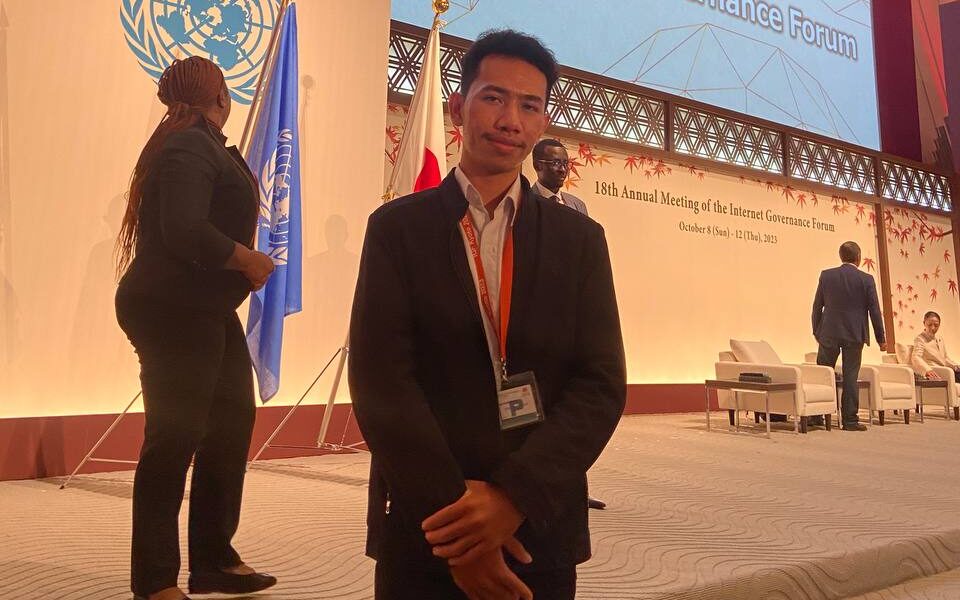 Friday 8 December 2023​
Set Kimhong
The Internet Governance Forum (IGF) is a global platform where stakeholders from various backgrounds come together to discuss critical issues related to the Internet\'s impact on society. From October 8th to October 12th, I had the chance to attend the IGF 2023 in Kyoto, Japan. In this blog post, I\'ll share my experiences and insights from this significant event, which covered a wide range of topics, from digital cooperation for environmental sustainability to the role of parliamentarians in shaping a trusted internet.IGF 2023 HighlightsThe IGF 2023 opened with powerful remarks from the United Nations Under-Secretary-General and the Prime Minister of Japan, emphasizing the importance of multistakeholder cooperation in addressing global challenges such as sustainable development and climate action. The theme of the event, \"The Internet We Want - Empowering All People,\" highlighted the commitment to creating an inclusive and sustainable digital future.Day 0: Setting the StageThe event\'s first day featured an inspiring opening ceremony and a session on \"Future Network Systems as Open Service Platform in Beyond5G/6G Era.\" This session provided insights into the evolution of network systems, setting the tone for the discussions to come.Day 1: Environmental Sustainability and Trusted InternetOn the first day, I attended two enlightening sessions. \"An Untapped Resource: How Can Digital Cooperation Contribute to the Battle for Our Environment?\" explored the role of digital cooperation in addressing environmental challenges. In \"The Role of Parliamentarians in Shaping a Trusted Internet Empowering All People,\" I learned about the crucial role of legislators in shaping a trustworthy and inclusive Internet.Day 2: AI-Driven EducationDay 2 delved into the future of education with the session \"AI-Driven Learning Revolution in Cambodian Higher Education.\" This discussion was particularly relevant as it explored the potential of AI in transforming Cambodia\'s educational landscape.Day 3: Inclusive Energy TransitionA highlight of my IGF experience was the session on \"Accelerating an Inclusive Energy Transition.\" This session provided valuable insights into the global transition toward sustainable energy sources and the role that digital technologies can play in this transition. It emphasized the importance of ensuring an energy transition that leaves no one behind.Day 4: Rule of Law for Data GovernanceThe final day featured a session on \"Rule of Law for Data Governance,\" which underscored the significance of governing data while respecting the rule of law. This is particularly crucial in the digital age, where data plays a pivotal role in shaping our world.Contributions to CambodiaMy participation in IGF 2023 has equipped me with valuable knowledge and fresh perspectives. I\'m committed to promoting responsible digital technology use, advocating for internet inclusivity, and supporting initiatives that leverage AI for education and sustainable energy transitions in Cambodia. I plan to actively engage in projects that align with these goals, working toward a more connected, sustainable, and inclusive Cambodia.I would like to express my heartfelt gratitude to the Open Development Cambodia (ODC) for their unwavering support in making my participation in IGF 2023 possible. Their support allowed me to engage with global thought leaders and gain a deeper understanding of the pressing issues in internet governance. I look forward to sharing my newfound knowledge and contributing to Cambodia\'s digital future, all made possible by the support of ODC.In conclusion, the IGF 2023 in Kyoto, Japan, was a transformative experience that opened doors to new opportunities and ideas for shaping the future of the internet. With a commitment to positive change, I am excited to play my part in building a brighter digital future for Cambodia and beyond.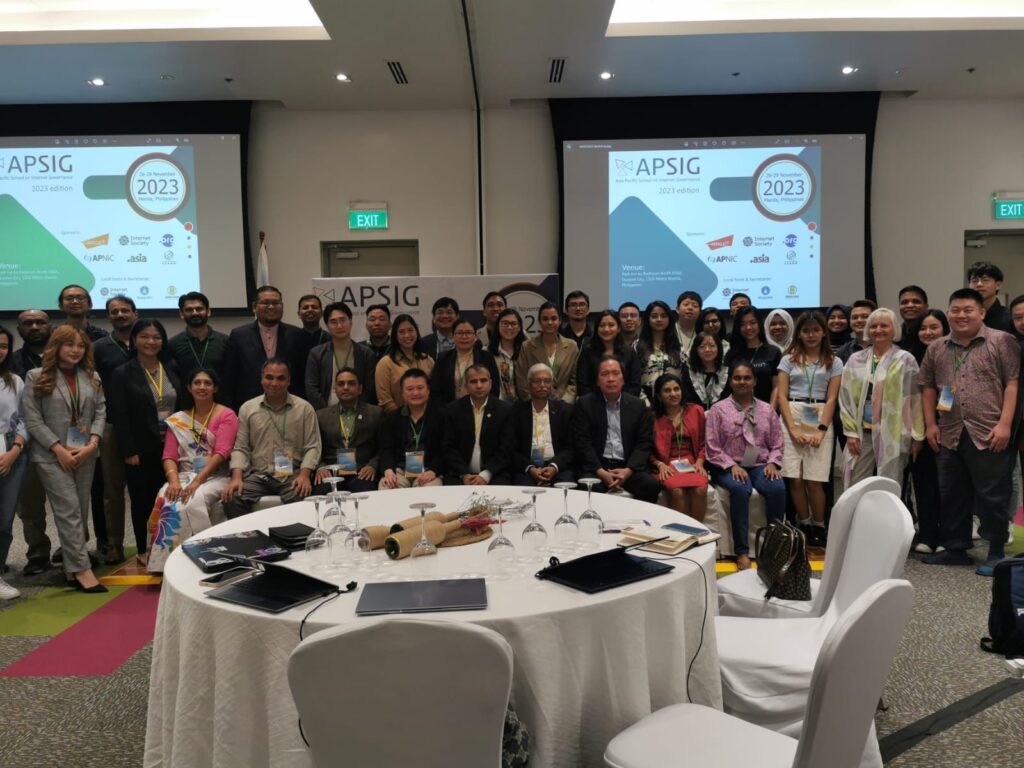 Tuesday 5 December 2023​
Sok Haingkheang
APSIG is the edition of the capacity-building initiative of the Asia-Pacific School on Internet Governance that also serves as a regional School of Internet Governance working towards raising awareness and capacity building within the Asia Pacific region. APSIG 2023 was held for three days from 27-29 November 2023 at Park Inn by Radisson North EDSA Hotel, Manila, The Philippines. Open Development Cambodia\'s team (ODC) partake in the full event. The APISIG originally started in 2016 intending to equip participants with the knowledge and skills to participate in Internet policy-making by developing a strong foundation in the following: Promote and support Schools on Internet Governance (SIGs) in the Asia-Pacific RegionProvide training services to organizers and speakers at national and local SIGsDay Zero (26 November 2023)The program officially started with an Introduction and icebreakers. On day zero of the event, the fellows get to know each other and learn from one another about the Internet governance that happens in their home country.Day One (27 November 2023)The program focused on the Internet Governance's history and evolving ecosystem, the Role of International Organizations and NRIs, Internet Technologies and Security Standards, the Flash talk from the Fellow, Bitcoin, Blockchain and Beyond, and IP Go. Back then, all participants were informed on day zero to deliver the flash talk on the topic of Internet governance in their home country. ODC team has delivered a flash talk on the AI-driven learning Revolution In Cambodian Higher Education which is the research paper conducted by Mr. Heng Soklay AI Researcher and lecturer at Cambodia Academy of Digital Technology. On top of that, the ODC team also supported the speaker in explaining IP Go which the ODC team explained the description of the activity and the role of the network operator and the way the Internet works.Day Two (28 November 2023)The program focused on Accessibility and Inclusivity, Digital Economy and Future of Work, Internet shutdowns and International Human Rights Law, Cybersecurity Incidents (Role-play)/ DNS Security activity, Internet Governance, and 7th Generation Warfare.One of many interesting activities was called "Accessibility and Inclusivity" in which the Speaker presented us with the website's accessibility. She aimed to raise awareness among the website developers to consider elements including audio, voice commands, and other available tools. The speaker also urged web developers to follow WC3 guidelines "Web Content Accessibility Guidelines" and ask people with disability to test their websites to ensure that the content available on their websites is accessible. Following this section, the speaker discusses Applying International Human Rights Law to the Internet Shutdown.In the session of Cybersecurity Incident Role-play, all participants were divided into 3 main teams including the management team, the technical team, and the legal team which were responsible for responding to the public about a case that a hacker leaked an NGO's data. ODC team played the role of a team leader of the legal team and explained to the fellow the process and what we needed to do in the session and we also discussed the stage that we needed to follow carefully. Those activities made the participants know how to respond to such incidents that would happen in our daily lives.At the end of day two, the ODC team also presented about the Cambodia culture to all participants and presented about ODC's work and ODC involvement in improving Internet Governance in Cambodia including the Internet governance and ICT programs including Cambodia Youth Internet Governance Forum, Cambodia ICT and Digital Forum, Cambodia ICT Camp.Day Three (29 November 2023)The program began with the section called Emerging Internet Corporation for Assigned Names and Numbers (ICANN) priorities: The next round of new Generic top-level domain (gTLD) and Universal Acceptance, Impact of Internet Fragmentation on Future of the Internet. The APISIG 2023 came to an end with the closing remark by the organizer. All participants provided their feedback to improve the program. ODC's staff managed to learn from and build connections with other participants necessary for future cooperation. After the program ends, it is expected that the ODC team can learn or apply, if possible, any relevant lessons learned from APISIG 2023 to Cambodian youth through an event called "Cambodia Youth Internet Governance Forum 2024 (Cambodia YIGF) which ODC plan to host in Phnom Penh in the upcoming year 2024. The insight from APISIG 2023 also provides additional input for the ODC team to make use of for experience-sharing sessions related to Internet governance. Second, it is an opportunity that ODC 's team have build a network and exchange ideas from others with other academic, expert, and other internet governance communities.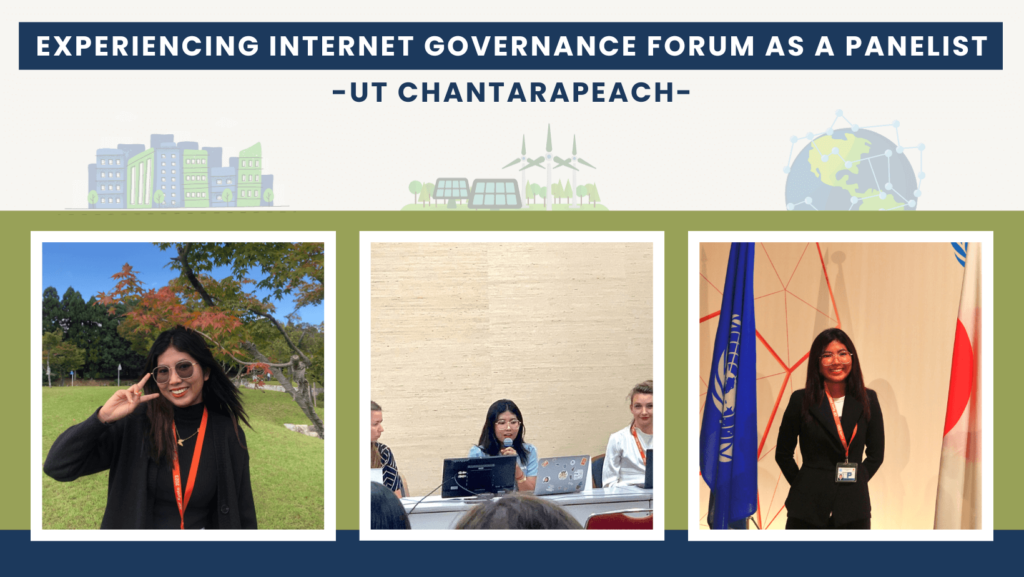 Sunday 19 November 2023​
UT Chantarapeach
Imagine a place where the ancient meets the cutting edge, where culture dances with technology—a place like Kyoto, Japan. Now, picture being part of a global gathering of minds, all driven by a shared passion for shaping the digital world. That\'s precisely where I found myself at the Internet Governance Forum (IGF) 2023, and let me tell you, it was nothing short of an exhilarating experience!Being a Youth RepresentativeOne of the most memorable moments in my journey was the opportunity to serve as a panelist for Session #133, titled \"Accelerating an Inclusive Energy Transition.\" This session was a significant part of the broader discussions on Digital Technologies to Achieve Sustainable Development Goals. The session was expertly organized by several key entities, including the Dutch Ministry of Economic Affairs and Climate Policy, the NLIGF, Electronic Commerce Platform Netherlands (ECP), and WEOG. As I stepped onto the stage, I carried with me not just the perspectives of Cambodia but also the dynamic ASEAN youth community. It was a moment of immense honor and responsibility to raise the my voice. The session's mission was clear: to energize our collective efforts toward an energy future that truly leaves no one behind.In my presentation titled \"Unlocking ASEAN\'s Green Energy Future Through Youth,\" I delved into the pivotal role of youth in spearheading green energy transformation in the ASEAN region. I began by emphasizing the critical importance of green energy, not only for environmental sustainability but also for our collective future. I then highlighted the significant challenges that ASEAN faces in transitioning to green energy, including surging energy demands and issues of affordability and accessibility. I also showcased the immense potential for youth to contribute to this development. Through the adoption of green technologies, the creation of green jobs, and the initiation of green initiatives, we can use the successful model of the Cambodia Internet Governance Forum as an example, in which the forum plays a paramount role in driving the transition towards a sustainable and green energy future in ASEAN.Keynote from other significant sessions:My thoughts were not only mine; I did take some aspirations and knowledge from other experts from the other sessions I joined before my panel sessions. I will list three sessions that genuinely inspired me below:\"Transforming Technology Frameworks for the Planet\" IGF 2023 was like a digital oasis, teeming with knowledge and inspiration. This session had me envisioning a tech-powered green utopia. It was a reminder that the digital realm could be a force for planetary good as well if we were to include the environment in the framework-building process.\"High-Level Panel on Artificial Intelligence\"Artificial Intelligence, or AI, wasn\'t just a buzzword—it was the show\'s star! This session was the most inspiring for me as it showed us how AI can be an accelerator in its own right, speeding us towards a greener, more sustainable world. But wait, there are matters that we need to consider here! AI needs a moral compass, and that\'s where governance comes in.\"Without facts, you can\'t have truth, and without truth, you cannot have trust.\"Nobel Peace Prize laureate Maria Ressa at IGF2023. Three suggestions were raised for approaching generative AI where it can be hijacked easily for emotional influences and often false content: \"Stop surveillance for profit. Stop coded bias against women, LGBTQI, and other minorities and use journalism as an antidote to tyranny.\"\"Youth for Digital Inclusion & Environmental Sustainability\"This session was like a rallying cry for young digital warriors to start taking action. It hammered the message that we, the youth, are not just the future; we are the drivers of change today!Nadia Owusu, Civil Society, African Group representative, emphasized the role of youth in this critical time when we need to accelerate the green digital environment. I take so much inspiration from her work and statements from the session that they shape my panel discussion as well.The Return JourneyLeaving Kyoto was bittersweet, but I carried back more than just memories. I brought back a suitcase filled with inspiration, wisdom, and a heart bursting with a determination to continue endorsing digital rights, environmental sustainability, and youth empowerment.I will use my knowledge to light up our digital world, one pixel at a time. Special ThanksA heartfelt thank you to my admiring team, the Cambodia Youth Internet Governance Forum Organizing Committee, our Board of Advisory Committee, and Open Development Cambodia for making this incredible opportunity possible. Your support and dedication have fueled my journey towards a more inclusive and sustainable digital world.